3D Precast System
It consists of three-dimensional elements (slabs and load-bearing walls together)
Mainly for residential buildings, it allows further completion steps into the factory plant (MEP, bathroom, furnishings, kitchens, floors and internal/external claddings)
Fast installation.
We can start from the architectural, structural and MEP design, then the design of the factory plant follows. In this way the factory can be fully optimized on the scope of the work.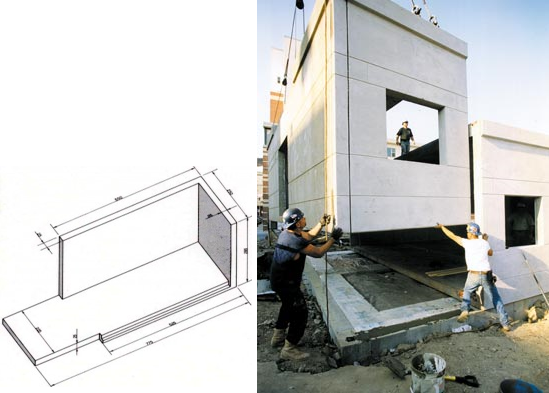 This system provides the breakdown of the building into three-dimensional modules (floor and two side walls), with dimensions equal to approximately one room of the house; in some modules other panels are added that delimit the entire room or to obtain others.
This typology is suitable for completing most of the finishes in production: systems, any insulation, painting, floor-coverings, doors and windows; however, it is a very rigid system and requires a repetitive typology of houses.
The investment, both for the factory and for the equipment and personnel is very important, furthermore it must be considered that the dimensions and weight of the products are considerable (approx. 20 tons) and there could be problems for transport, as well as to have the need for lifting systems both in production (overhead cranes) and on site (mobile cranes) of considerable capacity.
It is essential to build the production site within the same construction site (it can subsequently be disassembled and installed elsewhere); it is unthinkable to find prefabricators on site that can produce these modules, as special formworks are needed that must respect the modularity of the project.
The large initial investment must be supported and guaranteed by continuous production for several years.